📌 The US state that's closing reader comments
The week in content moderation - edition #77
Hello and thanks for taking another punt on Everything in Moderation. As of this week, there are over 300 of you, which might not sound much but is pretty exciting for me. Your feedback, comments and caffeine-based support are all really welcome as I work out how to grow and support this community of mod-watchers.
You may be sick of webinars by now but Editor and Publisher magazine is hosting a decent-looking virtual panel next Thursday 20 August on the topic of 'Moderation in a Time of Unprecedented Change'. Hopefully it's less scary than it sounds.
This week, I take a look at the decision of three Vermont news outlets to close their comment sections and whether it could be a tactic to control the spread of COVID-19.
Stay safe and thanks for reading — BW
---
🇺🇸 The Vermont news sites closing comments
Something interesting and unusual is taking place in Vermont, the northwestern US state that Wired once labelled as the home of 'crummy comments'.
In the space of just over two weeks in July, two different news sites have closed their comments for almost identical reasons (h/t Millie).
VPR.org, the online home of Vermont Public Radio, and VTDigger, a non-profit investigative outlet, both reported that COVID-19 had caused big spikes in readership and an influx of below-the-line reader submissions which meant moderation was no longer feasible.
Why close comments? According to VTDigger's announcement, the surge of contributions had 'overwhelmed our editing staff, which is managing a heightened workload as we continue to provide readers with the latest news, analysis and data on the coronavirus pandemic.'
The closures come after another Vermont outlet — SevendaysVT, an alt-weekly — decided to close its comment section 'at least temporarily' back in April 2020. All three publications suggested other ways that readers can get in touch, namely email, tweets or comments on a Facebook page.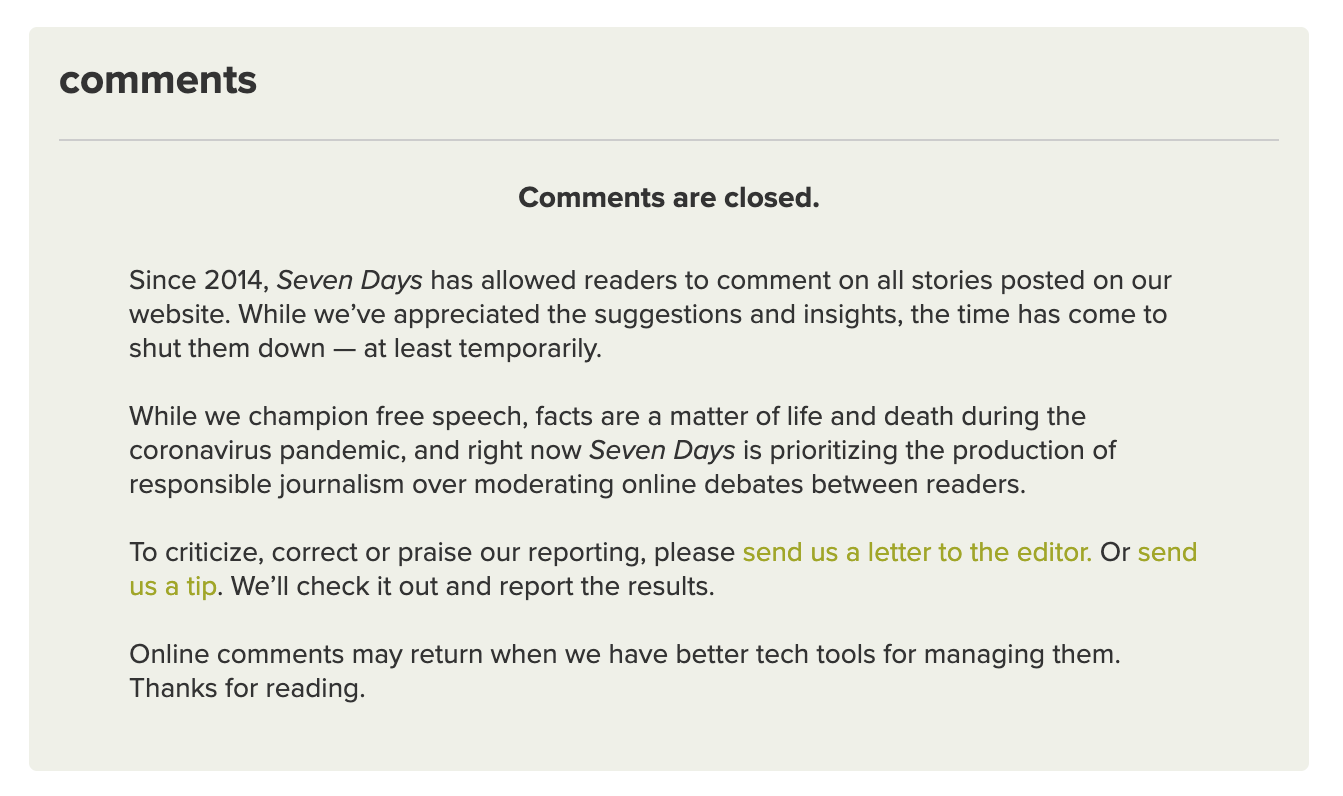 What does it signify? In one sense, not a lot. News sites have been shuttering comments regularly since 2013, when Popular Science, Reuters, NPR and others called time on below the line contributions. It's hard to begrudge them that — like many publishers, they couldn't work out the role commenting played in engaging readers and generating revenue. COVID-19 has only added to the financial woes of media outlets and the need to cut costs.
What is interesting though is that one or two people are making the link between the closure of the three site's comment sections and the number of positive COVID-19 cases in the state, which is one of the lowest in the United States. It was even mentioned in this New Yorker piece about the lessons to be learned from Vermont's handling of the pandemic.
Can that be true? I'm naturally dubious about the theory but it raises an important point: little to no research has been produced on the effect of news site comments (or other types of user contributions) on the pandemic.
UK media campaign group Hacked Off produced a very crude report in April about COVID-19 mis- and dis-information in the comments of four major UK news sites. But, as a piece of research, it leaves a lot to be desired. Instead, the focus has been on the 'coronabump', both on traffic and reader revenue.
That's clearly only part of the story. What if 'comment lockdowns', let's call them, have an effect on the spread of misinformation, in the same way as real-life city restrictions are helping halt the spread of the virus? Are these Vermont sites perhaps onto something? Or does closing comment sections harm readers attempts to evoke a sense of self and remove a means of positioning themselves against government authority, as has been seen in other countries and contexts?
For now, we only know this: if you want to comment on a Vermont news site, you'll have to look pretty hard to find one.
🛎 Not forgetting...
[Platforms] A lot of people in the Netherlands are pretty unhappy after Facebook did something the Dutch has failed to do — it banned Zwarte Piet (Black Pete), a character who appears around the Feast of St. Nicholas (5 December) and is deemed by many to be racist. [in Dutch]
Foto's en video's van Zwarte Piet zijn voortaan verboden op Facebook en Instagram, maakt Facebook, het bedrijf achter de twee sociale netwerken, dinsdag bekend.
[Platforms] There's a bunch of great stuff in Reddit's six-month modnews update including news of the community team's first international hire (and plans to expand the team in Europe).
Hey mods! It's u/woodpaneled, Director of our Community team, back with...
[Platforms] We are slowly beginning to learn the true impact of COVID-19 on moderation. This week, Facebook and Instagram published their latest quarterly community report and revealed the absence of human moderators meant it took action on fewer posts about suicide, child nudity and sexual exploitation.
Facebook on Tuesday disclosed that its ability to moderate content involving suicide, self-injury and child exploitation was impacted by the coronavirus between the months of April and June.
[Policy] According to the Senior Director of the Internet Society in this piece on Techdirt, there is a risk of 'confus(ing) the salient similarities and differences between the problem and where this problem occurs'. In short, attempts to regulate the web could make things worse 😱
To design better regulation for the Internet, it is important to understand two things: the first one is that today's Internet, despite how much it has evolved, still continues to depend on its original architecture; and, the second relates...
[Product] Swissinfo.ch, a site from the Swiss Broadcasting Corporation, is canning comments and moving 'towards constructive discussion' with its readers by the introduction of a like button and the return of registration to leave a comment.
This is what we do to ensure that your contributions are not just footnotes to our articles.
---
Everything in Moderation is a weekly newsletter about content moderation and the policies, products, platforms and people shaping its future.